How can I find a dentist near my location for regular dental visits?
The importance of regular dental visits can't and shouldn't be underestimated. If you want to preserve healthy and natural teeth for a lifetime, you must go for regular dental visits to a dentist near your location at least once every 6 to 12 months, depending on your dentist's recommendation. Your regular dental clinic should also have an emergency dentist who can provide emergency dental assistance at a moment's notice.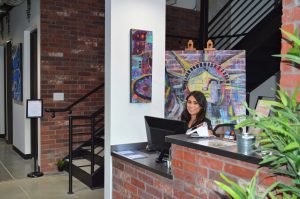 However, the regularity of your dental visits means you must find a dentist near your location — someone you can contact at a moment's notice and drive to without changing your daily schedule dramatically. The ideal dental office near your location shouldn't be any further than an hour from your location — though, ideally, it should be within a 30-minute drive from your current location. The closeness also proves useful when you experience dental emergencies, such as a knocked-out tooth.
The best way to find a dentist near your location is to google "dentist near my location." You'll find several dental clinics near your location, but you should focus on those with 5-star ratings and reviews from patients. You should ideally find a dentist open on Saturday near me, so you can schedule your regular dental visits on a day when your schedule is likely to be more open than usual.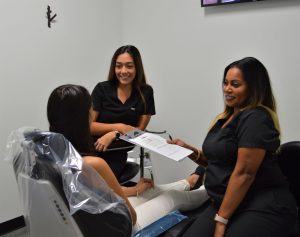 If you're in or around Midtown Houston, your Google results may lead you to URBN Dental Midtown, widely considered one of the best dental offices in Houston, as evidenced by our 5-star ratings and reviews from patients. Our emergency dental clinic is open from Mondays to Saturdays, and it's located in one of the most accessible parts of Houston Houston on Main and Holman Streets, a short walk away from downtown.
One of our recent patients said, "Dr. Benjamin is the best doctor I ever met. He took out my wisdom teeth, and I didn't even realize that the process had already been done with no pain. Even the next day, I don't have any pain or swelling. I highly recommend just doctor Benjamin in the whole of Houston and Katy for any dental issues if you have."
What's the importance of regular dental visits?
The importance of regular dental visits can't be underestimated. As a general rule, most people should go for dental visits once every six months, depending on their general dental health. People with exceptional dental health, dental anatomy, and a flawless dental history may have to go for dental visits once every one to two years. And people with a weak immune system, history of gum disease, diabetics, or misaligned teeth might have to go for dental visits even more frequently. You should defer to your dentist's opinion on the frequency of your regular dental visits.
Whatever the frequency of your dental visits might be, everyone needs regular dental visits. That's the only way to protect your teeth and address dental issues before they cause serious damage. No matter how well you brush and floss your teeth, you can't get rid of all the tiniest food particles stuck between your teeth and gums. These food particles eventually turn into a white sticky substance called plaque, which eventually hardens into tartar, which can't be removed through brushing and flossing. As such, you need regular dental visits for professional teeth cleaning, removing all the accumulated plaque and tartar.
If you don't remove the plaque and tartar, they eventually lead to bacterial infections. Bacteria are drawn to plaque and tartar because they feast on the substances and release toxins that lead to dental decay, resulting in inflamed gums and cavities. Over time, the inflamed gums can lead to gum recession and periodontitis, and the dental cavities eventually lead to rotting teeth. You need timely intervention to prevent the bacteria from harming your gums and teeth, preserving oral health for a long time.
Besides bacterial infection, regular dental visits are also essential because they look for other dental problems. The dentist looks for signs of bruxism, TMJ, oral cancer, and other dental problems in their early stages. The best way to preserve oral health is to address all dental problems at the earliest stage possible, preventing them from worsening. That's precisely what happens at regular dental visits.
Do you screen for oral cancer?
Yes, we screen for oral cancer during regular dental visits. We carefully examine your oral structures and run diagnostic tests to determine if you have any signs or symptoms of oral cancer. We also look for precancerous lesions that can eventually turn into oral cancer. As such, we address the earliest signs of oral cancer before they cause any damage.
Will my dental insurance cover teeth cleanings and exams?
Most dental insurances cover two teeth cleanings and exams per year. However, you should examine your specific insurance plan's details and discuss your options with our dental clinic.
URBN Dental is widely considered one of the most accessible and advanced dental clinics in Midtown Houston. Our dental clinic is located in the heart of Houston on Main and Holman Streets, a short walk from downtown. We have amazing dentists and dental staff who examine the root cause of your dental problems, use the latest diagnostic techniques to identify dental problems at their earliest stages, and help you avoid dental problems altogether. For more information, please schedule an appointment with the closest dentist near me today.