At URBN Dental Midtown and URBN Dental Uptown, we find inspiration in nature — our clinic has an artistic and minimalist aesthetic that is warm and inviting, invigorated with natural accents and materials like reclaimed wood and reused bricks. Entering our dental clinic has been likened to entering a warm coffee house — utterly relaxing and utterly comforting.
Opening Hours
Monday
8AM – 5PM
---
Tuesday
8AM – 5PM
---
Wednesday
8AM – 5PM
---
Thursday
8AM – 5PM
---
Friday
8AM – 5PM
---
Saturday (By Appointment)
8AM – 3PM
---
Sunday
Closed
Have a question?
Need to book an emergency appointment?
Dentistry is not just science for us — it is a form of cosmetic art and therapeutic care. Especially for dental pain and dental emergencies, we want to be sure you are comfortable and get one of the best result you want. We go beyond physical care and also make sure you are fully relaxed during cosmetic treatments. We want to ensure that you feel more confident in life with the dental care you receive. We use minimally invasive dental treatments that restore your smile so that you can greet the world infused with confidence.
URBN Dental River Oaks is also committed to upholding the strongest medical safety standards, which is why we only use organic BPA-free, Bis-GMA free, and ceramic filling materials. We ensure that all of our products and dental fillings are completely safe and do not contain even trace elements of BPA. We do not use mercury or amalgam products in our dental office.
Our Houston Uptown dentists also engage in community outreach and support local artists and creative businesses in Houston TX. We engage in lively interactions with the artistic community to create an open concept dental office that seamlessly doubles as an art studio. You will not dread going to the dentist's office anymore — in fact, you will look forward to it.
That is URBN Dental's ultimate mission statement — to create an artistic and nourishing space that supports your physical and mental well-being while ensuring comfortable. URBN Dental has two well-appointed offices in Midtown and Uptown. URBN Dental Midtown serves the Midtown, Montrose, Downtown and Texas Medical Center areas of Houston; URBN Dental Uptown serves the Galleria, Highland Village, Upper Kirby, Bellaire, and River Oaks areas of Houston, TX.
If you are looking for a dental clinic near me, you should step into our Midtown clinic and meet the team! Our team includes your Midtown Dentist, Dr. Benjamin Golik (the Dentist), Ria Rotger, Betty Contreras, Sabina Caxaj, and Elim Martinez. Our professional staff will be happy to show you around the premises and give you a complete overview of our dental treatments so you know exactly what you get with URBN Dental Midtown and URBN Dental Uptown offices in Houston TX.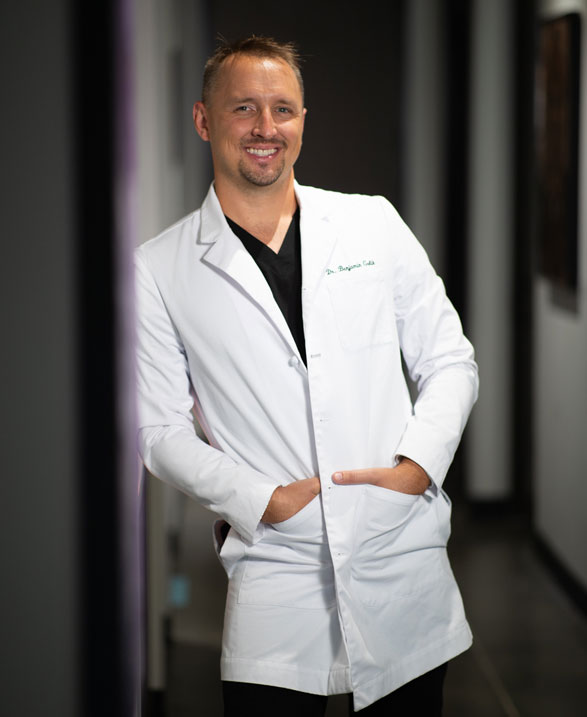 Dr. Benjamin Golik attended an expedited three-year program at the University of Missouri and graduated Magna cum Laude with his Bachelor of Science degree. While in college, Dr. Golik completed a joint research project which is published in the Journal of Experimental Biology. Dr. Golik then went on to complete his doctor of dental surgery degree at the University of Missouri-Kansas City where he also graduated with honors.
After dental school, Dr. Golik finished a one-year advanced general practice residency at Lutheran Medical Center, a level-I trauma hospital in Brooklyn, New York. Throughout this term he expanded his training in many multifaceted dental treatments including full-mouth cosmetic rehabilitation, orthodontics, oral surgery, and root canal therapies using trailblazing technologies. Dr. Golik is a certified Invisalign® provider and specializes in family and cosmetic dentistry. His current patient base includes professional athletes, actors, artists, and even members of the NASA community. From the highest level of aesthetic dentistry to the basic fundamentals, Dr. Golik is compassionate, dedicated, and focused.
The natural fusion of sciences and arts originally led Dr. Golik to the dental profession. His passion for the arts is reflected in his dental practice – above the office is an art gallery dedicated to the work of local artists. Many of the walls in the downstairs office are also adorned with local work. Dr. Golik's support of the Houston art scene has introduced him to other creative outlets such as the nearby film, theatre, and music communities. In his spare time, Dr. Golik enjoys an active outdoor lifestyle of hiking and traveling with his wife, family, and friends.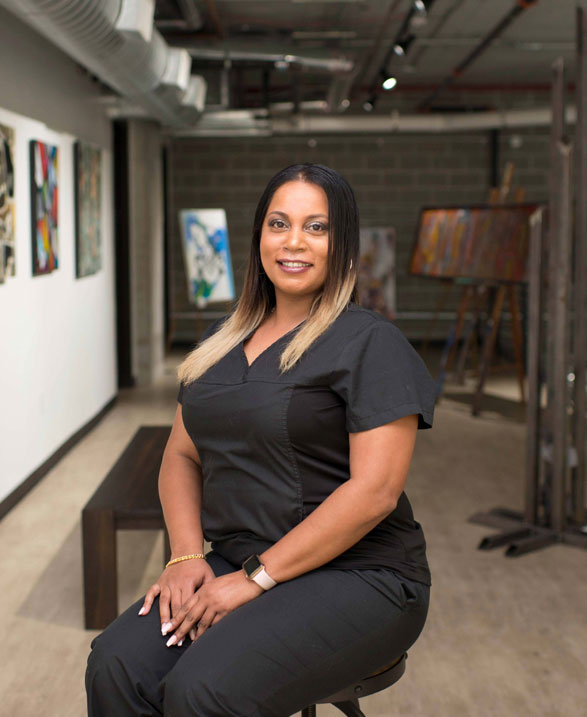 RIA ROTGER
URBN Dental Office Manager
Why You Should Visit

URBN Dental Midtown

Clinic
URBN Dental provides a wide range of advanced treatments and procedures, all of which are minimally invasive in nature and cause little to no discomfort. You are welcome to step into our Midtown or Uptown clinic at any time and have a look around — we love visitors and we'd love to give you a tour of our state-of-the-art facilities. If you're looking for an emergency dental clinic near me, a downtown dentist in Houston, or Houston Uptown dentists to take care of your oral health, you need to look no further!
Some of the Best Dentists
URBN Dental's Midtown and Uptown clinics are led by Dr. Benjamin Golik, who is one of the world's leading dentists. Dr. Golik is extremely friendly and listens to all of his patients carefully. He understands your concerns and takes your needs into consideration so that he can provide a dental treatment that's perfectly suited for your needs. URBN Dental also has emergency dentists near the Galleria Mall who can take care of your needs immediately. As you can probably tell, emergencies don't wait around for appointments. Which is why we're completely open to walk-in appointments. Whenever you come into our clinic — with or without appointments — our emergency dentists will give you some of the best dental treatments to facilitate quick and painless recovery.
Mental and Physical Comfort
Most people don't like the idea of visiting dental clinics because most dental clinics are designed in an extremely clinical and unwelcoming manner. Furthermore, regular dental offices only focus on treating the disease without considering your physical or mental comfort. At URBN Dental, we put your mental and physical comfort front-and-center. Our Midtown dental clinic has a homely and casual vibe with warm brickwork and wooden accents. Furthermore, our Uptown dental clinic patiently answers all of your concerns and we give you a complete overview of each step in the treatment procedure.
Some of the Best Dental Products
At URBN Dental, we maintain the highest and most ethical dental treatment standards. We only use products made in some of the nation's leading laboratories like Digital Dental Leaders. Furthermore, we firmly stand against the use of BPA (Bisphenol A) in dental products. BPA is a chemical that's commonly used to harden dental products and fillings — this chemical is only used in trace amounts, so much that it shouldn't have any considerable adverse effects. However, a few recent studies have shed light on the fact that BPA consumption — even in trace amounts — may cause neurological or behavioral problems in infants and young children. While the study isn't conclusive, we don't take risks with your health.
Some of the Best Dental Treatments
Dental technologies keep changing and advancing with time. While older techniques and technologies can still be used to provide dental treatments, they may cause more side-effects or unnecessary pain. That's why our doctors stay ahead of the curve and keep abreast of the latest developments in dental science. If there's any new technology or treatment with promising results, URBN Dental Uptown is sure to have it. We only use minimally invasive and completely non-surgical procedures and ensure that all of our in-office treatments are painless and comfortable.
No Surprises
Dealing with insurance providers can be a nightmare! Most people dread the process of contacting their insurance to figure out which parts of their treatment will be covered. Going into any treatment without a clear idea of the payments can be terrifying. URBN Dental Uptown and Midtown are associated with all major PPO insurance providers. We collect your insurance information, deal with your insurance providers, and give you a complete overview of the treatment costs before the actual procedure. This allows you to go through the procedure knowing exactly what you'll owe us at the end — there will be no surprises.